Apr 12, 2009
Day 4
City – Dole
Elevation – 4,100m (13,500ft)
Trekking Time – 4 hours
Altitude problems start becoming a possibility when you pass the 3000m mark in elevation, and the higher you go up the more likely you will be be affected. Everyone's capability to adapt varies and there is no telling how well you will handle it until it is actually encountered. So for that reason, it is important to ascend slowly and take your time, allowing yourself to acclimatize and get use to the elevations before further advancement. With our journey beginning with a flight up to the mountains, we are probably more prone to being affected by the height than if we were to slowly walk from Jirir. However, other than some minor issues with the oxygen level and temperature, neither Zita and I have really felt any dizziness or head aches. Still, not taking any chances, we head off on another easier day to help acclimatize.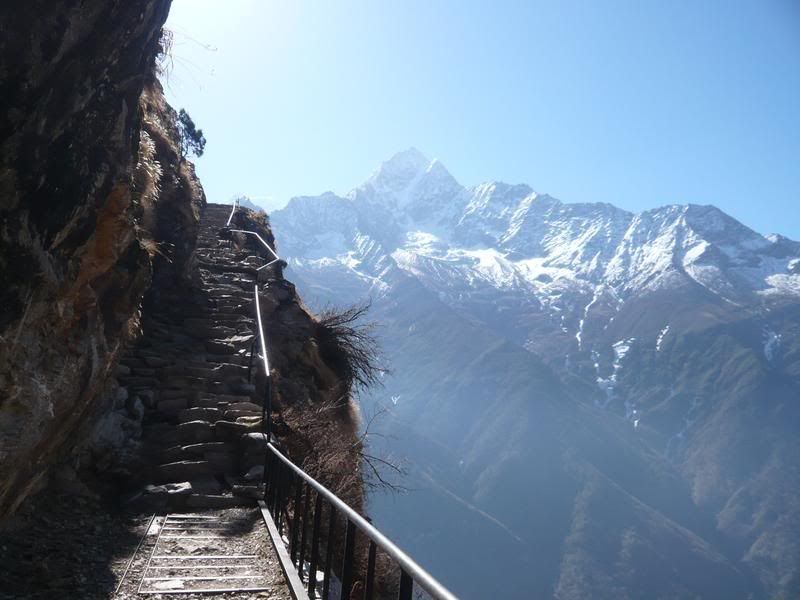 After a short but steep climb to start our day, we begin wrapping around the mountain again, trekking along the edges that over look the beautiful valleys and mountains that stand opposite of where we are. It is a beautiful walk that isn't too steep. And after a good rest the night before, I feel rejunvanated and able to walk for hours, 4 hours to exact, but I feel good and could easily continue on all day. However, sticking to our plan for another day to acclimatize, we remain in the town Dole (4100m).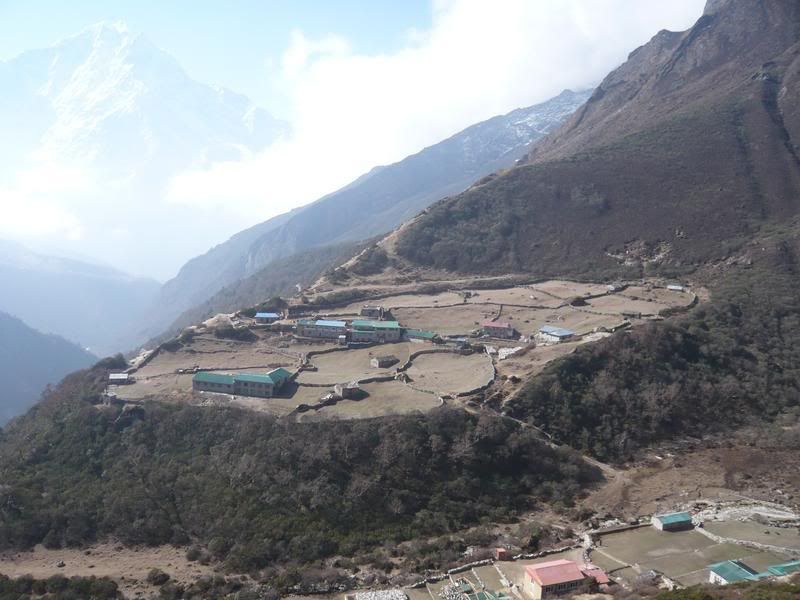 Dole is a small town, overhanging on a plateau of the mountain, split in the middle by a river. It directly faces Mount Cho Oyu, giving us a great view of the great 8150m mountain, one of the largest in the world. Rice and potatoes are again served for lunch and dinner, as we are eating lots for energy and eating quite healthy as well. During the evening, we busted out the playing cards that Zita brought with her, only they are miniature cards about a quarter of the regular size. Still we manage to teach our guide Kumar the simple game of memory over a pot of tea.
Zita was curious about Nepalese music and dancing, so one of the other guides found a song or 2 on his mobile phone to play for us. As with Nepal's physical location, the music has a lot of Indian and Chinese influences, and is quite a catchy tune in fact. While they danced into the night, and by night I mean 8:00pm, the amount of heat generated by the fireplace becomes less and less, so we returned to our rooms with extra blankets to retire for the night.
Tonight, however, I could not sleep. Rolling around continuously all night, I was, at times, hallucenating and falling in and out of dream sequences. I might have gotten an hour of sleep in total. The lack of oxygen was definitely affecting my sleeping abilities. Zita, on the other hand, had develop early symptoms of a cold earlier in the day and it is now hitting her hard as the temperatures at night are really affecting her. So much for trying to acclimatize. We were both struggling to get through this, but we were in the Himalaya Mountains and happy about it